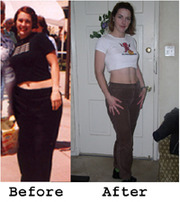 LOOK BETTER THINK BETTER FEEL BETTER PERFORM BETTER
LeanOut Boot Camp combines more activities in one hour than anyone could ever have time to do in a week. Teresa's gift for lively choreography along with a disciplined approach to cross training has allowed her to design a successful program to get maximal results in the shortest amount of time. Best of all, the program combines each activity with motivating music from every genre for every age.

VH1's "Remaking"
Teresa and recording artist Taylor Dayne were featured on an VH1s' program called "Remaking" which will be aired in February . Teresa was chosen to train Taylor for 30 days for VH1's hit reality show.

A special thanks to Teresa's favorite nutrition guru, Ann Louise Gittleman, author of the new york times bestseller "The Fat Flush Plan". Ann personally helped Teresa coach Taylor through a two week liver cleanse giving her a lean, elegant and toned physique.

Kelly lost 35lbs in 8 weeks!
Isn't it time to look and feel amazing?
SIGN UP - GET UP - SHOW UP

Lose up to 15 lbs. of
in just 30 days!