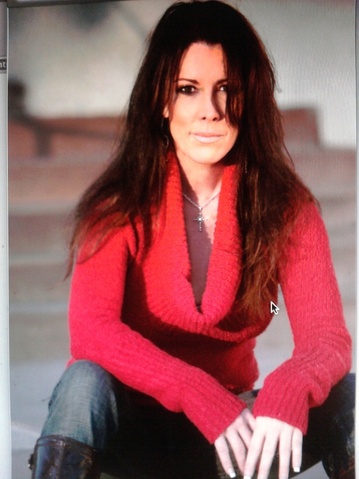 Teresa Olsen is a veteran in the fields of diet, exercise, and motivation. She has been described by her clients as a tomboy & tiger, tough and tender, drill sergeant and cheerleader, with enough energy to light up the San Fernando Valley on a dark night. Teresa is a woman of dimensions. Perhaps it's those dimensions that make her able to reach us all; wisecracking and buff young guys; shy women, overweight men; twenty-somethings to fifty-somethings; even nine-year-olds. Her sheer energy makes you want to get up and move. Somehow, she manages to make it fun.
Teresa's 20 years of experience, 15 of those years getting celebrities ready for movie roles, events and television has established her as Hollywoods premier trainer and nutrition coach. Teresa's LeanOut Boot Camp program opened its doors on the Lot of Paramount Studios, Hollywood in January, 2000. This amazing program has a reputation for a quick turn-around and a trademark look that is lean, toned and trim rather than bulk and build. Teresa's program along with her hands on approach to nutritional coaching and personal training, has attracted such clientele as entire family of Sidney Poitier, Melissa Joan Hart, Sex Pistol Steve Jones, Selma Blair, Ahmet, Moon & Diva Zappa, Laurie Metcalf, Rose McGowen and supermodel James King. Teresa was also asked to train singer Taylor Dayne for VH1's hit reality show "remaking".
As an athlete growing up in the mountains of Utah, she was a #1 ranked tennis player and accomplished freestyle skier by the age of 12 . In high school Teresa held the MVP in tennis for all four years before playing at a college level. Eventually her love for skiing and adventure had her skiing the dangerous cliffs and shoots of the Utah mountains with the boys of the "Warren Miller" ski movies.
Teresa and Jay Hurren developed the Lean Out program in 1990 when they owned and operated "Private Workout", a gym in North Hollywood, CA. The gym catered to top studio executives and notable celebrities including Dudley Moore, Molly Ringwald, as well as members of the television cast of "90210", "Cheers" and "Nightcourt". The team also trained musicians such as Aerosmith's Steven Tyler and Joe Perry. The successful gym caught the eye of Disney heir, Roy Disney Jr. who purchased the center in 1994.
Teresa and Jay then brought their customized LeanOut program to the world renowned Voight Fitness and Dance Center where they partnered with fitness pioneer Karen Voight. LeanOut quickly became Los Angeles's most successful fat loss program. Over 500 clients per year were counseled including Rebecca DeMornay, Judd Nelson and Sex Pistol Steve Jones. In 1996, they teamed up with Dr. Barry Seauthor of "The Zone" and designing the country's first "Zone Center."